Robert Edwards, 40, has a good life. Married to his high school sweetheart, Stacey, he has two children, ages 20 and 17, and feels fortunate that he has saved enough money to pay for their college education. He owns a small contracting company and is doing quite well due to his hard work; which has allowed his family to move into a nice home in the suburbs with a remodeled kitchen and additional bedroom suite that he and his employees added. On the weekends, he loves to fish, hunt and spend time outdoors. Rob is active, but doesn't always make the best food choices. Below is a one day food diary.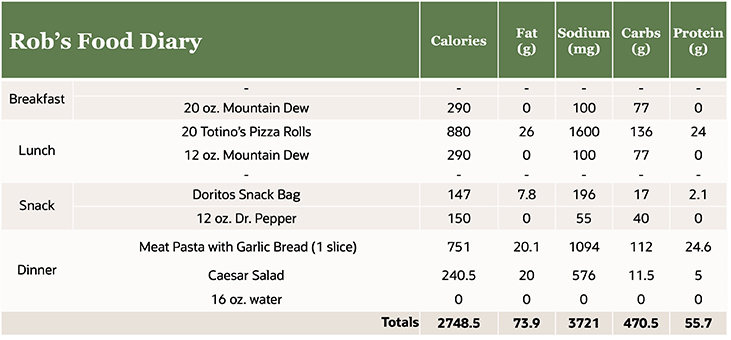 Rob began smoking 24 years ago when hanging out with his buddies, but now it has become a necessity. He feels as if smoking is the only thing that helps him make it through the day. He knows he is addicted and has tried to quit numerous times. Even after watching his father die of lung cancer and his stepfather develop emphysema, Rob continues to smoke.
He knows the warning signs of respiratory distress but he seldom visits a physician, except when he gets a cold. A year ago when he had a lingering cold, Rob went to his wife's physician who gave him a 10-day prescription for a codeine cough syrup. Also, during his exam, it was discovered that he had high blood pressure, so the physician prescribed Altace Oral. In addition, the physician also told him he should stop smoking saying, "It could add years to your life, even though you have been smoking since you were 16."
Recently, Rob has been experiencing respiratory distress and, after sharing this with his wife, it has gotten worse. So, he makes an appointment with the doctor at her insistence.
Review Rob's Personal Health Record (PHR): After looking through Rob's personal health record, list the results that show Rob has health issues which need to be addressed as well as his respiratory distress.




Internet Research: What are some reasons Rob should see a physician (PCP) on a regular basis?

Team Response: As a team, develop two statements you could use to convince Rob to start seeing a physician (PCP) regularly?



Internet Research: Rob lives in Kentucky. Using the Tobacco-Free Kids website answer the following questions. What percent of your state's adults smoke compared to the national average? And, what percent of your state's high school students smoke compared to the national average?


Team Response: Do you think the percentage of smokers and e-cigarette (vaping) users in your school are similar to your state's average? Why or Why not?


Review Rob's story: Nutrition is an important aspect of health. Looking at Rob's Food Diary, what are some changes or modifications you would make in his food choices so Rob's diet is healthier?

Practice: Each team member needs to 'make a copy' of this Nutrition spreadsheet. Look over Ahmed's Food Diary and select healthier food item choices and serving sizes that fall within the Recommended Daily Allowance ranges. People 'eat with their eyes first', meaning food should look appetizing. When creating meals for Ahmed, visually picture those meals, making sure they are meals a person would actually eat.



Reflection: When looking at creating a healthy meal in the Nutrition spreadsheet, what two categories were hardest to get in the "green" range and why?


Make it Personal: In general, what are two challenges teens face when trying to make healthy food choices?