As Melissa waits, she remembers not too long ago when she didn't have an EHR and her medical records were kept in a manila file with some numbers on it. She also remembers how inconvenient this was — either she or her parents were constantly having to repeat themselves, the nurse or physician had to flip through pages of information to review her last visit, and she couldn't decipher her physician's handwriting to know if the correct information was being recorded.
Melissa wonders — what is the history of medical record keeping? Once again, she pulls out her smartphone and searches the Internet.
Melissa learns: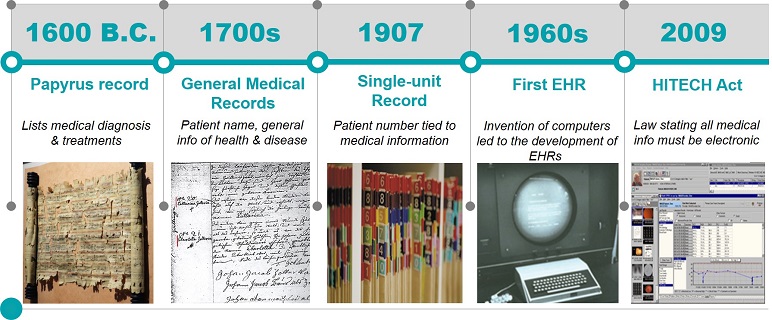 Review Melissa's Story: True or False: In 2009, Congress passed the HITECH act which states that all medical information contained in a health record must be captured electronically.

True
False



Discussion Question: Review the list below. Identify each bullet as an advantage of the electronic record system or an advantage of the paper record system.

Always legible
Hand-written notes can be faster than typing
Increase speed of data retrieval and billing
Require less storage space and can be stored indefinitely
Expedite the transfer of data regardless of geographic separation
No fear of technology issues (user errors, hardware crashes and breakdowns, power failures, software glitches, sabotage of the system by disgruntled employees and hackers, unauthorized access, viruses, Trojan horses)
Reduce negative events, such as drug or allergy interaction
Track ordered laboratory, diagnostic or imaging tests; alert the provider of abnormal test results; notify the patient of the need (or the lack thereof) of future tests, diagnosis or treatment
High initial cost of EHRs, which includes staff training
Connect to pharmacies and computerized prescriptions
In professional liability suits against healthcare providers, the medical record is "the witness that never dies." A well-documented, complete and unambiguous medical record means a case that is infinitely easier to defend.