Melissa feels so rundown that she tells her parents. They suggest she visit her primary care provider (PCP). At 7 p.m., Melissa accesses the online appointment scheduler and schedules an appointment with her PCP. She hopes Dr. Smith can prescribe or suggest something to help her feel better, as she cannot bear the thought of missing the championship game. In her PHR, she reports how she is feeling and her recent weight loss, so her PCP – to whom she gave access to – can study her symptoms in advance of her appointment.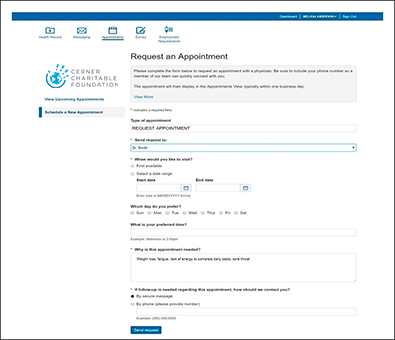 Discussion Question: Which of the following is a benefit of being able to schedule an appointment online at 7 p.m.?

Convenient, 24/7 access to schedule.
Scheduling errors are minimized.
Easy access to open time slots for appointments.
All of the above

Discussion Question: What is the advantage of having Melissa's PHR accessible to the physician's office before her appointment?

The staff can be ready for Melissa prior to her arrival.
The staff can take her vitals over the Internet.
The staff can diagnose Melissa without having to see her.
The staff can ignore the information on her PHR.